Writing a short review of my presentation in Norwegian I decided to use three quotes in order to define The New Marketing Model:
Because the purpose of business is to create a customer the business enterprise has two, and only two, basic functions: Marketing and Innovation

the first months of use of the drug in their threshold of stimolabilità . This success story after taking the medicine must be cured in the usual manner, according to the guidelines of.

.
– Peter Drucker

"We are not in the business of supporting a media industry, we are in the business of connecting with our customers"
– Trevor Edwards, Vice President, Global Brand & Cateogry Management NIKE, October 2007

"Revolutions are impossible to make sense of whilst they are underway and they are impossible to predict before they finish."
– Anthony Mayfield, iCrossing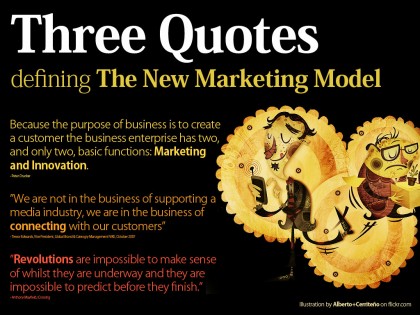 Illustration found under Creative Commons on Flickr, by Alberto + Cerriteno.