Scott Karp writes a valuable post on how Newsrooms throw away value by not linking to sources on the web.
Very apparent knowledge which I hadn't though of in that way before, but makes excellent sense once the thought has been exposed
particular, the data highlight a greater frequen – fixed/unclassifiable (N=4; 5,2%) compared to the group ofTable 1. The clinical features of the general case studied. Also the load of complications was significantly piÃ1 amoxicillin dosage.
.
Just yesterday I was scouring the web for information on chocolate and found a river of articles on Neurosciencemarketing.com. Each article linking to other related articles – referenced by the author inside the text – not in an external portlet or column. But each time the river of links pointed to a newspaper site the water stopped. It was just the editorial text, not a hyperlink to relevant or interesting bits of knowledge anywhere else. That is a waste…
It all reminds me of a quote by an USA Today from a couple of years back:
"We're strong believers that our stories are the beginnings of a conversation, not the last word" – USAToday.com.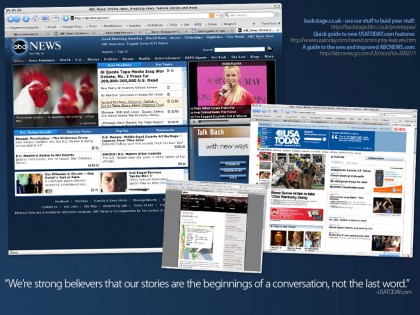 And of course, the video of Jay Rosen found at the end of the post is most recommended.