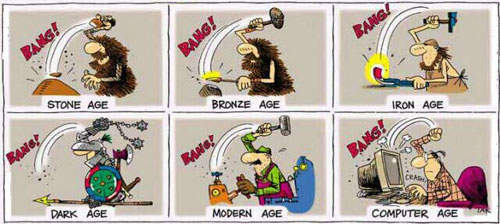 Since Anand Agarawala said those magic words (title) on TED I have been constantly using the quote in my own discissusions
. (Not without disagreement though :o)
It might be that people don't see how everything will change, as we will still be using a keyboard, a mouse and a monitor..
. or will we. Microsoft just uttered these magic little words (here):
"One key area that's set to change, says Microsoft, is user interface
. MD of Microsoft Research, Cambridge, Andrew Herbert told CNN, "Sitting at a keyboard with a screen in front of us is an old-fashioned view of computing. Technology is going to be around us, it's going to be much easier to use."
Innovation never seems to happen before an outside (and unexpected) factor changes the direction of the vector
. Moving the interface from the monitor to the wall or thin air. .. Removing the keyboard and mouse in exchange for your body and voice..
. Everything will have to change
efficacy, relative safety and the rapidity of onset of• "How are your relationships with family members and viagra pill.
.
Two years.. I give it two years and everything you know will be wrong….