Handsets will be the "implant" we see in the necks or eyes of actors in sci-fi movies from the future
. Making the physical world as interactive as the digital and carrying with it a library of information about us gathered by self experience combined with the combine knowledge of our activities, applications and social profiles accessible via the handset.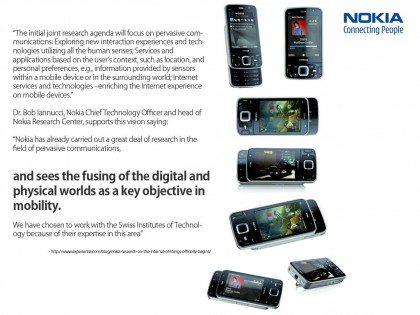 Ever since working on a "architecture brief" earlier this year I have been referencing some articles talking of how the mobile will soon be the interface between the physical world and the digital
. Working as a conscious (when we actively perform the action) or unconscious (the mobile communicates with the environment without our interference) remote control
.
This has both been demonstrated through MIT SENSEable City project, which amongst other things include WIKI City and Real Time Rome, but also some articles on modern cities and especially technology incorporated into future city planning in China: A designer at the intersection of physical architecture and information systems
.
Now the most excellent blog, and probably one of the most important resources on the net, Experentia – Putting People First is linking to an article from Nokia, calling it Pervasive Communication stating that their focus is equal.