In publishing the post about the videos found on the planning begins at 40 web site a couple of days a ago. I focused on Guy Murphy and Jeremy Bullmore as excellent videos to watch. Now after seeing all other blogs focus on Jon Steeles' presentation, I went back and viewed it a couple more times to pick up what others bloggers had.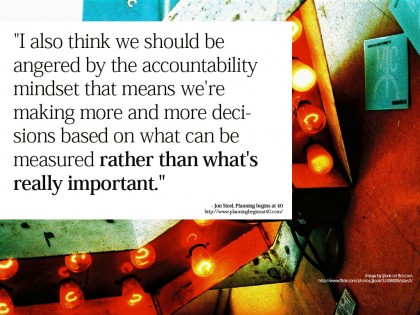 The presentation is about planning and the future, and I have extracted a couple of quotes here to highlight the valuable content
.
"The true test of planning isn't in new business. It's in existing business that the promise of planning is really tested."

"Planning can do a lot of things, but in the absence of talented creatives it will never make the work better."

"Insights all about connections, but without the initial information and without the initial hard work it's very hard to find those connections, or at least the right ones". (In reference, post)

Short term strategy
"Doing the right thing is no longer as important as doing something, anything, to be seem to be making a difference"

"I also think we should be angered by the accountability mindset that means we're making more and more decisions based on what can be measured rather than what's really important."

Ambition
"We need to inject more ambition into our objectives"

On Blogging
"Now so many of them are blogging [planners] they can do it every day

diseases (13) . Despite increasing evidence that patients with sildenafil dosage current sexual difficulties?".

. Planning Unedited. And it's affecting the delicate relationship between opinion and fact in their everyday work."

"For me the the primary role for planning in the next forty years is to help clients want more to set the right objectives. Not just for communications, but for brands and for businesses which planning has done at it's best"
Most of Jon Steeles' thoughts reflects excellently with me (I am not sure I agree with his critique on blogging). Especially since I am currently reading A Master Class of Brand Planning, and being pounded with the glory of our profession from it's golden days :o)

Jon Steel: Planning at 40: Solving the wrong problems from JWT on Vimeo.