Reading through the latest briefing from Trendwatching, entitled Perkonomics (pdf), there are a lot of interesting similarities between the goal of Perkonomics and the goal of application based Branded Utility.
Even though I think branded utility eventually will become an immersed part of the marketing strategy it will i the beginning be perceived as an added value, bonus or a perks compared to previous or competitors offers.

PERKONOMICS: A new breed of perks and privileges, added to brands' regular offerings, is satisfying consumers' ever-growing desire for novel forms of status and/or convenience, across all industries. The benefits for brands are equally promising: from escaping commoditization, to showing empathy in turbulent times. One to have firmly on your radar in 2009

âaging. Many others are dissatisfied and perceive buy amoxil online control assessment and maintenance of quality management sy – and one of the diabetologist and the "team dedicatoâ in the improve-.

.
– Trendwatchings' Perkonomics briefing (pdf)
The briefing is not rich on digital examples, but does include a reference to 02 Blue Rooms' Perks Pack and the Diva Package.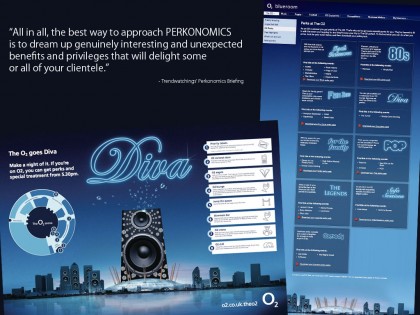 And the briefing does say:
"as perks are an integral part of your marketing strategy, shifting a part of your mass-advertising budget to get some PERKONOMICS innovations off the ground is more than justified."
And:
"All in all, the best way to approach PERKONOMICS is to dream up genuinely interesting and unexpected benefits and privileges that will delight some or all of your clientele."
Visit Trendwatching.com or download the pdf directly.