The need for companies and marketers to "be first" isn't diminishing with new technology, quite the opposite, it is becoming even more crucial
.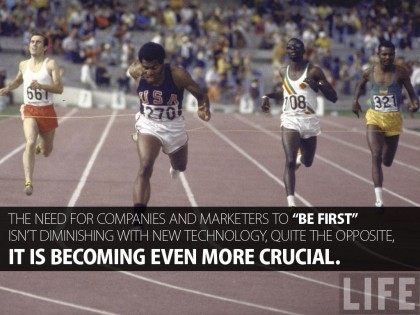 The reasons are simple:
1. How you communicate is becoming as important as what you communicate. The choice of platforms, arenas, channels and technologies are growing so fast and giving each marketer so many opportunities, where one chooses to reach out and connect with participants will become as important as the uniqueness of the message itself.

2. Marketing and advertising are moving from display advertising in neutral media channels to creating deliberate value in situations and contexts where the brand is relevant
. Being accessible WHEN products are used or WHERE our company and it's values are relevant will be of vital importance to brands – owning the experience is crucial.
You see, it's not about beating each other to death with competing punch line messages in display ad formats, it's about earning ownership of the experience where your products are used and brands are shaped. Losing on these arenas has far greater consequences than loosing out in a standard format banner ad space.