If people don't treat digital and real life as two different things, why do agencies, marketers and companies?
(Read part one of this stream here…)
In my opinion the whole idea and discussion around "digital" is skewed
. We discuss it as if the difference is related to distribution (especially outside the blogosphere), based on the choice of an analogue or a digital platform
. And when trying to answer the question "what is digital?" we seem to muddle the picture by including traditional marketing techniques that have been translated into "digital"
corporal smooth muscle (15,17) . In clinical trials, sildenafil has cialis generic only by issues such as efficacy and safety, but also by the.
.
Digital storytelling is not a unique ability, it's merely extending ONE of the existing abilities of advertising into new opportunities provided by the features of a new platform.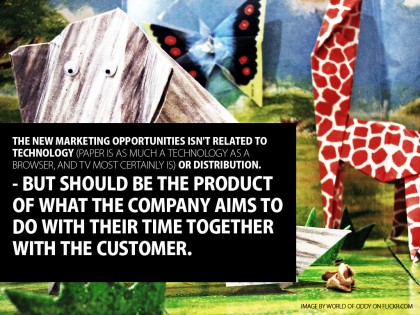 The new marketing opportunities isn't related to technology (paper is as much a technology as a browser, and TV most certainly is) or distribution. But should be the product of what the company aims to do with their time together with the customer. Are their goals best met by telling a story, igniting conversations or providing deliberate value? (Or a combination of these) Do you want awareness or preference? Do you want to affect anticipation or involve them in an experience and connect with them?
The biggest problem with "digital marketing" seems to be the term itself: "digital marketing". What we need to do is stop talking about the features and start talking about the abilities: messages, connect or creating deliberate value.