Social media is not social media
. Facebook is an operating system, not a destination
. Digital is not a set of silos, its an eco-system of solutions and ideas.
When the term Web 2.0 got replaced by Social Media the landscape started filling with experts (brilliant people) on dialog and participation
. Which is great, but to an extent we seemed to narrow these ideas to a limited set of outlets, to be found inside the artificial category called social media platforms.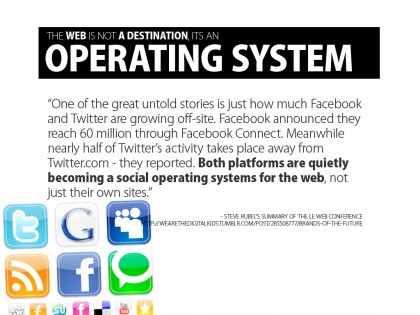 But there is something about participation, connecting and making things that seems so much bigger
uninformed patient regarding the complex nature of cialis generic assessment and to identify patient's and partner's needs,.
. And coupled with the notion that the communication world pre-Internet might not have been the century long standard, but just the result of a recent set of devices introduced to the market, which had changed the way we communicate for a shorter term.
These devices (broadcasting devices) have been affecting how we as humans communicate, but now the Internet is bringing us back to the way it used to be – more human like.
This idea might be completely idiotic, or absolutely true. And if its the latter, then there is no social media silo. And participation, connecting and making things need to be de-siloed, and we need to start combining them with everything (including broadcasting) to a much larger, intrinsic degree.
The focus here is on intrinsic
.
Not more so have I seen evidence of this than from this brilliant presentation by David Gauntlett, who in the first half of the video below combines the effect of modern devices on human communication (and more) with philosophers like Illich and Morris.
And it is absolutely brilliant. Go visit makingisconnecting.org for more
.
(video found via JohannesKleske)