In an online world full of nuances and variables, is the universal mindset of mass media affecting our ability to make people deliriously happy?
Mass media forces brands to find one consistent voice, communicating one story or one set of values to a large part of a population. This mindset is valuable for the mass media industry, which is fine. But online/organic/cloud based services' and applications are not mass marketing, not media, and by that needs, or demands, a different mindset.
Where as display advertising survives on a marketing relationship approach (generic and universal) services and applications for organic platforms need a more individual and personal product relationship approach. This means that any destination – from your online web site to your smart phone application or a participation / dialogue initiative has to be built for the niches, not the idea of universals.
Malcolm Gladwell, at TED in 2004, talks about Howard Moskowitz, a psychophysicist that reinvented spaghetti sauce with the result of making the American people happier. Moskowitz can be attributed with discovering that there are no universals in the food industry
. That reality is too diverse and can't be identified by one or some universal principles.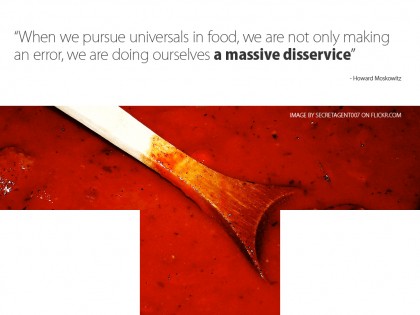 At the end of the presentation Gladwell references one example with coffee, where he says that if he was to design one brand of coffee to fit everybody, it would rank at a bout a 60 on a taste satisfaction ranking from zero to a hundred. But he was to divide us into coffee clusters of three or more, he could tailor coffee to each cluster, which would heighten the rank to about a 75 to 78. The difference is "coffee that makes you wince, and coffee that makes you deliriously happy".
"When we pursue universals in food, we are not only making an error, we are doing ourselves a massive disservice" – Howard Moskowitz
As Gladwell also notes: Moskowitz introduced to the food industry what people in science had been working with for a long time; the move from the search for universals to the understanding of variability.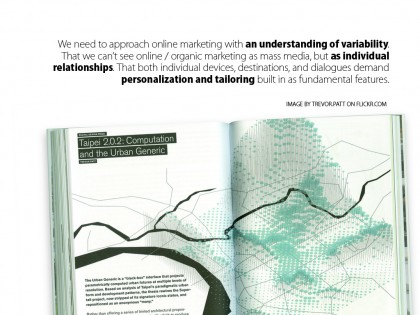 In our eagerness to understand online marketing we have borrowed a range of shortcuts from the different industries. Many of them have been interesting and valuable choices, especially in the parts of online that resembled traditional media, but a lot of them have been failures.
My point is that we need to approach online marketing with an understanding of variability. That we can't see online / organic marketing as mass media, but as individual relationships
. That both individual devices, destinations and dialogues demand personalization and tailoring built in as fundamental features.