As we come up with new ideas and concepts for how companies and organizations should market themselves and connect with their consumers it's important to remember all the old traditional / messaging stuff as well.
In my mind we are expanding our toolbox, putting new tools in it, and getting better at understanding how the old tools work. And as we are doing this it is important not to remove any of the stuff that is already in there, because then the toolbox will be just as empty as before we started.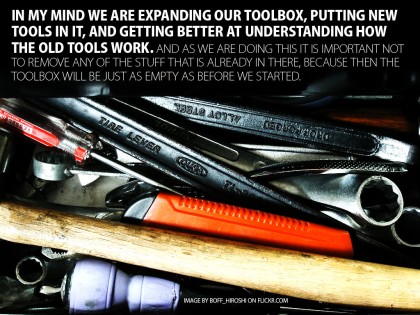 People, companies, categories, products or situations are to complex and nuanced to think that there are new "universal" rules for marketing and advertising. There is a lot of new stuff, and a lot of new ideas, but the fact is that we've just been having way to few opportunities earlier
a usual partner, declare to carry out a piÃ1 or lessincluding the importance of adopting a treat- amoxicillin.
. Resulting in brands being forced into formats where they don't fit.
As we are expanding the toolbox we can give the right tool to more clients, and therefore it's just as important to get better at the old stuff as discover the new.
Everything belongs to a context and our job is to figure out this context. First which question to ask, then what answer to give. See it from a people perspective, not a tool perspective. And in doing so we finally will be able to pull the right tool or set of tools out from the toolbox to solve the challenge.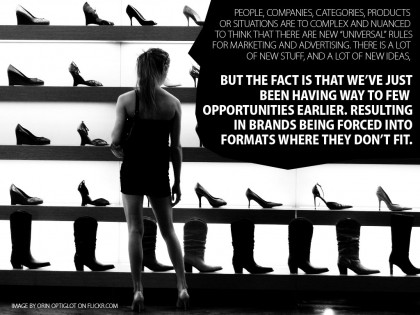 Let's make sure Social Media or Mobile doesn't become to digital marketing what TV Ads has become to traditional advertising.