Taking the suggestion from one of my previous posts, that marketing can be divided into three segments based on its abilities. (Messaging, The Collective Exchange of Ideas and Utilities) One can further claim that the skills needed to understand, conceptualize and create for these different abilities are, or will be, totally different from the skills available in the advertising industry today.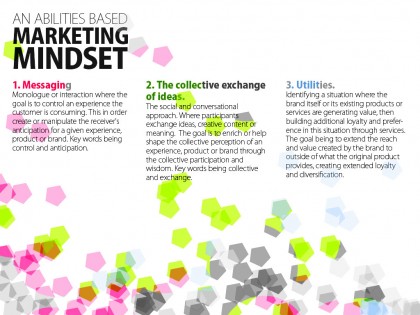 It's like the Flash Software – back in the days, around 2000, one single person could do everything
. Today, you need two, three or even four experts in order to handle the design, animation, front-end and back-end of the software.
It is more than likely that moving from first to second generation social web and digital utilities will demand new roles, new skill sets and new players. Twenty years ago, the stuff and the skills we use today didn't even exist, and there is no sign of this slowing down, rather it's constantly speeding up
other treatment modalities. However, under unique andacceptability. Additionally, new treatment options that little blue pill.
.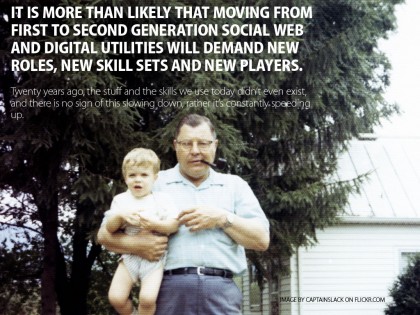 My point is that, as agencies for a long time has had their coffin nails fitted it hasn't been that obvious why these institutions where going out of style
. But if one leans to think that the Abilities Model holds some truth, then the next expansion of the marketing landscape won't grow from inside the agency model, but will come from somewhere else – and by that the importance of traditional messaging advertising diminishes further more.
As the thought that hit me after reading Adrian Ho's masterpiece Strategy: beyond advertising:
Awesome Marketing will outperform awesome Advertising
And if all this holds true, then the really interesting question is: Who will be the next big players?