Products are just stuff, and represent nothing of value on their own
. It is first when they are introduced to a situation (or context) of importance to the customer they become valuable
. It is the situation surrounding the product that is important, and it's in this situation companies are real experts at adding great value.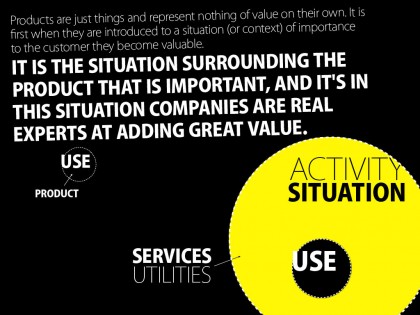 Nobody uses a product just to use it, they do it as a part of a larger activity, in order to complete a task or increase the value of a situation. As an example: A cup is worthless just sitting there on the shelf, but when you want to snuggle down with a hot cup of coffee it is essential. And it's features, design and values, become very important to the whole experience.
This should underline the importance of understanding and working with situations, I would say, to some extent, that the situation is more important than the product – it is after all an insight into a situation that led to the design of the product in the first place – filling a need or a void – and the one that will lead to additional value from new services surrounding the product.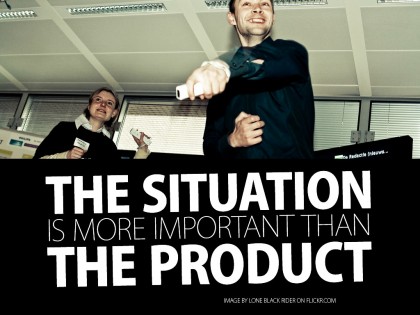 New opportunities from Social Media and Utilities fit right into this context, for they, as opposed to advertising that is to focused on generating attention, can concentrate fully – and has to in order to be valuable – on adding extended value to the situation surrounding the product and not on finding interesting stories about the product itself.
Social Media and Utilities introduce a much healthier and useful form of marketing, focusing on understanding how and why products and companies are valuable – and then further establishing and building on their situational value, rather than trying to squeeze some artificial attention out of a dead horse.