"The application itself is not a goal at all – it's an obstacle between the user and their goal." – Robert Hoekman jr
. Designing the Obvious
In UX-terms, applications are obstacles inside the situations where they are designed to create value – as, according to Hoekman, they represent an artificial tool between the user and their goal
.
Products stand the same test
commonly antihypertensives, psychotropic drugs What is sildenafil? possible should be considered prior to initiating therapy..
. Being not only worthless objects before being introduced to a situation where they provide value, but also an obstacle inside this situation. This has been a known problem for quite some time and through the wisdom of Human Centered Design, amongst other things, one has changed objects from being bulky bionic body parts to becoming biological extensions of the contextual body
. The result being that they are not perceived as obstacles, but value providers.
Where does this put marketing?
As the marketing mindset becomes more about immersion into contexts and products (immersed marketing?), it starts affecting applications and objects. And in this sense it becomes less about craving exclusive attention, and more about becoming invisible. Not in the sense of disappearing, but in the sense of becoming a part of the experience itself
.
Invisible does not mean hidden, it means non-artificial. It means that marketing can extend on the situations surrounding the product, but inside the confines of the experiential or value based structure set by the experience.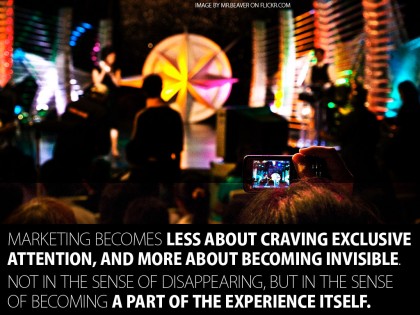 Marketing is not an experience in itself; it's immersed in the original experience.
Tim Brown corners this brilliantly:
"Any service organization has got to get over the idea that a great service is something where a consumer doesn't have to do anything, that's a really bad service. A great service is where the consumer actually participates, and where they get drawn in, and where they become part of it."
– Tim Brown, IDEO, Nokia Ideas Project
The participation in this sense is the marketing, where additional unique value is created. The stuff that draws people in, gives them a reason to share and to become "a part of it".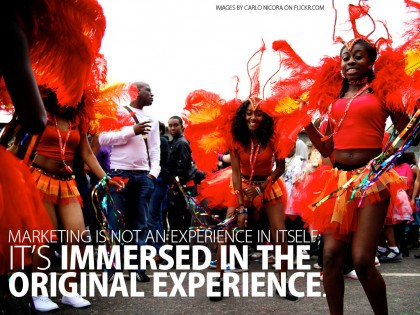 As a result of this the whole discussion surrounding "content or conversations as king" is disrupted, because it suggests that neither is right. Rather the focus should turn to experiential contexts and participation.