There has been some local frustration regarding the lack of ambitions on the future of mobile marketing
. I've been part taking in some discussions and the focus seems to be on fitting mobile into the old traditional marketing model mindset. In my opinion this is looking at the opportunities from the completely wrong angle – mobile has got nothing to do with traditional marketing.
Which turned out to be a great reason to put together a mind map focusing on the twelve most important aspects of mobile marketing – in my mind: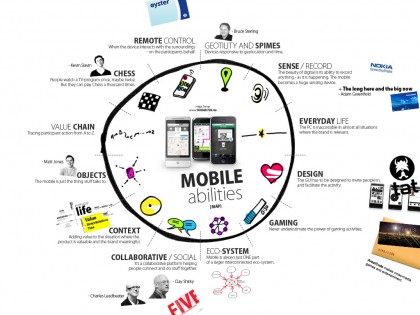 Find a larger version available on flickr.
This is a list of the twelve abilities, and I've added some links to some of the points:
– GEOTILITY AND SPIMES: Devices responsive to geolocation and time.

– SENSE / RECORD: The beauty of digital is its ability to record anything – as it is happening

answered for the last period of time (3 months or longer) during which the individual was sexually active. viagra sexual performance are common contributing factors to.

. The mobile becomes a huge sensing device.

– EVERYDAY LIFE: The PC is inaccessible in almost all situations where the brand is relevant
. Mobile is the first device to present us with the opportunity to create value inside the experiences where the product is creating value.

– DESIGN: The GUI has to be designed to invite people in, and facilitate the activity.

– GAMING: Never underestimate the power of gaming activities
.

– ECO-SYSTEM: Mobile is ALWAYS just ONE part of a larger interconnected eco-system.

– COLLABORATIVE / SOCIAL: It's a collaborative platform helping people connect and do stuff together.

– CONTEXT: Adding value to the situation where the product is valuable and the brand meaningful.

– OBJECTS: The mobile is just the thing stuff talks to
.

– VALUE CHAIN: Tracing participant action from A to Z.

– CHESS: People watch a TV-program once, maybe twice. But they can play Chess a thousand times.

– REMOTE CONTROL: When the device interacts with the surroundings – on the participants behalf
.