If marketing is to become a more integrated part of the product experience/context, baked in and/or eventually become more important than the product:
"Marketing becomes the value people want to connect with, the product is merely an invitation into this relationship". – link
Then it means a different set of demands needs to be put on marketing.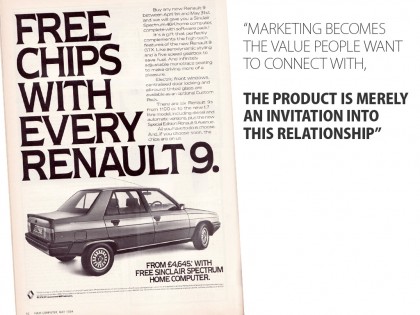 Digital services can't be measured by downloads, clicks, uses or other advertising-type measures. Marketing integrated with the product needs to be measured by its ability to create value in and business from the relationship with the participant
. Marketing needs to be measured by its own business model
.
When the marketing becomes the value provider in the company/participant relationship, it needs to define its idea, value proposition, revenue stream and how this is going to measured. Not merely how much attention and use it has generated from being available.
In short, marketing initiatives need more business model thinking integrated into their design process. (And of course this is not exclusive – forcing the BM-ideas to collaborate or grow from narrative ideas creates an environment set to earn from the combination of both worlds).