We are living in a world of immersive technology and ubiquitous computing. Where the possibilities only seem limited by our own creativity
.
Participating at Picnic you really got the feeling that the possibilities from:
– The Exploration of Data
– Connecting Everything
– Augmented Reality
are just inches away – and that is close enough for any eager advertiser and marketers to try it out.

(thx to Damiano for the reminder)
This is The Digital World, as I have previously termed it, but is has different name. "Introduced" by Adam Greenfield, Head of Design Direction for Nokia and author of Everyware (youtube). A term already being integrated into South-Korean society. It is the term "U".
It might seem a bit abstract, but if one looks at the other terms in our language used to specify something as "the technological version" it fits into the pattern. With both "e" and "i" being used to describe information technology or electronic communication.
Adam Greenfield, talked about the use of the letter "U" in connection with "connected cities" or "U"-places and referenced some ongoing projects: New Songdo and u-Cheonggyecheon. (U-city, pdf)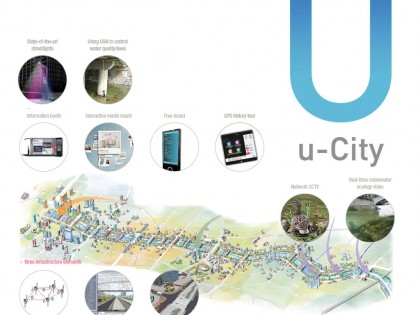 The Long Here and The Big Now
What is the U-world? Here I reference Adam's take on it, because what he is seeing is in essence the creation of something described by what he defines as The Long Here and The Big now
"But as I've considered how urban experiences are constructed under the condition of ubiquitous informatics, I've slowly come around to thinking that these Whole Earthy ideas are in general precisely the inverse of how we actually perceive things when afforded the technologies I'm so interested in. The terms are painfully reductive, but let's for the time being go with the convention that's been established: "u-" places are nothing if not cities of the long here and the big now."
– Adam Greenfield, speedbird.wordpress.com
In short the emergence of the U-landscape will present the:
– Long Here, "Place now has visible depth in time"
.
– Big Now, "Shorthand for the enhanced and deepened sense of simultaneity – of the world's massive parallelism – that certain digital artifacts lend us".