Two articles earlier this week focused on 2009 as the year brands will forget about branding and focus on short-term response marketing
. To me this would be as smart as peeing on your self to keep warm on a cold day.
Here is one of the articles, in Norwegian.
Now let me just start by saying that this is not a "spend your way out of recession" post. I don't believe in that. The point is that spending is not the only alternative, we don't shower in hot or cold water, you're not either with us or against us, there are plenty of opportunities in the middle.
The alternative is challenging assumptions to what marketing and branding is, or at least, challenging the existing mechanics and tools available to do the job.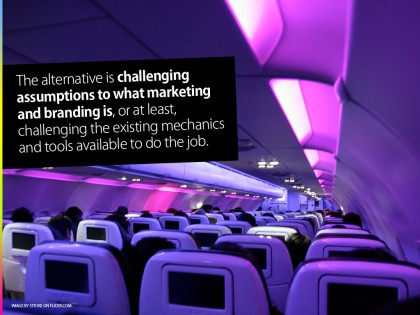 We are used to branding in Mass Media, and this is quite expensive (ergo the "spend your way out of it"). But, we are not exclusively in Mass Media any more, we are on Arenas, in Services and in Communication Mediums. And this should open up the whole playing field for 2009.
We know one thing for sure; that being forced into a corner we suddenly start being innovative in order to get out of there
the corporal smooth muscle cells. This enzyme guanylate generic viagra online for sale specific discord in the patient's relationship with his sexual.
. But for the last few years there has been no need to be innovative because everything has been fine and dandy
. And therefore there has been a slow adoption of marketing tools online. I hope this now is set to change.
I hope Brand Managers and Marketers will start exploring the rich opportunities they have, and what they can achieve with them
. I hope 2009 will be the year when New Thinking in marketing comes back on the menu.
So brand your way in to and out of 2009, but don't do it the old fashioned way. The New Brand Landscape is all about finding the correct tool for your challenge, and it demands that brands take a closer look at what their trying to achieve and with which tools these are best achieved
.
We have to be creative, 2009 will be the best chance brands will have at revitalizing their marketing.