As participants' worlds fragment across a range of platforms, arenas, channels and screens, brands are met with the opportunity to build behind a bigger idea.
A bigger idea that convolutes anything from messaging to content, services to conversations.
A Big Idea slices into smaller ideas, each tailored for it's situation and contributing in its context to the participants' perception of the brand. Building the brand in everything from messaging, to display, to services, to facilitated participation.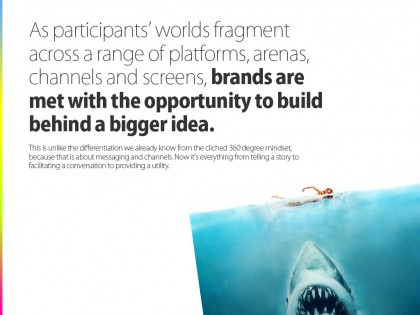 This is unlike the differentiation we already know from the cliched 360 degree mindset, because that is about messaging and channels
. Now it's everything from telling a story to facilitating a conversation to providing a utility.
We've moved from fragmented messages to real Big Idea brand fragmentation. This demands that brands become more ambitious, more self-confident and more including.
– All at the same time.
Here I've tried to provide a list some relevant and valuable stuff online:
Allison Mooney at PSFK has written a brilliant article on Multiple Screen Strategy. How stories need to fragment across screens and the mobile would fit right in the middle of it. (link)

Digital is not a silo, it's the thing that ties everything together. Inside this presentation done by Paul MacGregor of threebillion.

The Esquire Magazine E-Ink front cover showing the first real merger between print and screen.

The Mini Augmented Reality print ad in Auto Bild. Showing how print and digital can work together.

Digital has the ability of tying everything together. Read this excellent article from Allison Mooney. The point being that consumers don't care about platforms or arenas to the same extent we do. If they are in a conversation with out brand it might just as well be on a browser mobile or magazine. As Mooney points out, digital and mobile is, or can be, the glue that puts it all together. (link)

Digital is much more than a media channel which you can pour communication through. It's a communication medium, an ongoing conversation between people that already share a common interest (the social object), and brands need to treat this medium different from the one way mass media. (link)