I came across yet another explanation of the social graph, this time via the excellent blog Mobile Youth.
Unfortunately it falls into the same trap as previous presentations I've found, and doesn't really give me an interesting look into the new opportunities.
It explains the concept of the graph excellently, but only exemplifies it through old examples that we already enjoy – without the graph
. So where is the innovation?
"It's not about setting up shop in social spaces, it's building brand experiences that embrace the graph."
– Alisa Leonard Hansen, iCrossing
via Julian Cole
Now I do believe in the Social Graph, or especially the concept of the Universal Profiles in connection with SPIMES and Communication Mediums.
. Which I have touched upon slightly in an earlier post.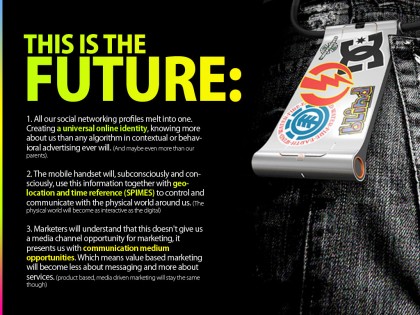 But I'm looking for the opportunities, and I think we are currently looking in the wrong direction
.
As with search, the social graph will become ubiquitous. And all the current examples aren't. Or maybe I'm just looking in the completely wrong places?
On the other side of the argument, I recommend a video presenting some of the dangers of all this data/collection under ONE owner/mega company
. Old, but still good: Trusted Computing.