Back in 1991 Stephen King's article on Tomorrow's Research (Admap 1991) defined the challenges for research in under The New Marketing Evolution.
He predicted that brands would become more important than the objects being sold – AND that the principles of service marketing would become inseparable from products, that they would become "the core of all brand building"
.
– His description bears remarkable similarities to the changes in marketing brought on by our own recent technological evolution and his thoughts definitely enrich the discussions we are having today.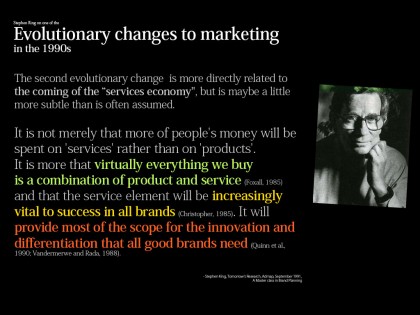 He describes it as: "The new mode – the two major evolutionary changes to marketing in the 1990s:
This is an explanation of it quoted from the book "A master class in brand planning":
"The second evolutionary change is more directly related to the coming of the 'services economy", but is maybe a little ore subtle than is often assumed. It is not merely that more of people's money will be spent on 'services' rather than on 'products'
. It is more that virtually everything we buy is a combination of product and service (Foxall, 1985) and that the service element will be increasingly vital to success in all brands (Christopher, 1985). It will provide most of the scope for the innovation and differentiation that all good brands need (Quinn et al., 1990; Vandermerwe and Rada, 1988)
King goes on to write bout six basic principles for the new mode, how many feel familiar or relevant in todays context?:
1. Services can be added to almost any brand
.
2. The intangible elements of services are more valued than the tangible
3. services are the key to customer retention
4

. Internal marketing is essential
5
. The real test is problem resolution
6. In services, what gets measured gets done.