Are 3rd party sites a good, persuasive motivator. Or a bad branding decision?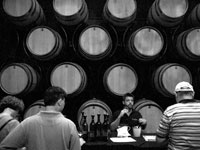 While doing some big pitch research for a service provider a onth back we explored some vertical search sites to see how the client was represented in the resultset-pages, and how well they did in the rankings. To our surprise  they had no presence, at all, anywhere….
Now it's perfectly understandable that you can't find space for elements on your own site that invites the customer into dialog, reviews and participation, but not having a presence on vertical search engines must be a very daring choice to make? (depending on the category you're in of course).
Consider this research from  ComScore shwing that
The study, based on a survey of more than 2,000 U.S. Internet users in October 2007, revealed that consumers were willing to pay at least 20 percent more for services receiving an "Excellent," or 5-star, rating than for the same service receiving a "Good," or 4-star, rating

The revolution of the therapy waves userâimpact, low-intensity (LISWT) can help both males with disfun- amoxil the population (promotion of theexercise, and anfood – significantly âthe incidence of distocie of the shoulder (OR 0,40;.

.

Nearly one out of every four Internet users (24 percent) reported using online reviews prior to paying for a service delivered offline.

More than three-quarters of review users in nearly every category reported that the review had a significant influence on their purchase.
From the article:
"These data show the importance of local service review sites in consumers' purchase process," said Steve Marshall, research director for The Kelsey Group. "With such a large percentage of review users subsequently purchasing, it's vital that local service providers have a positive presence on these review sites."
The article can be found here: http://www.comscore.com/press/release.asp?press=1928