If we are trying to understand how communication is changing / evolving / innovating we need to look at the bigger picture, not deconstruct the technological abilities of one tool.
(in other words, I'm getting a bit tired of people criticizing Twitter for being Twitter, they are missing the point :o).
Online conversations are very limited. Expressions and ideas are forced into very strict, rigid formats. Limited by the complexity of contribution and/or the sameness of format within ONE conversation.
"Real-life" conversation on the other hand can continually change and take on any form it wants, can contain a range of "languages" like spoken language, tone of voice, body language, gesturing etc. And this is how we are used to communicating.
Online conversations isn't even close to mimicking this behavior.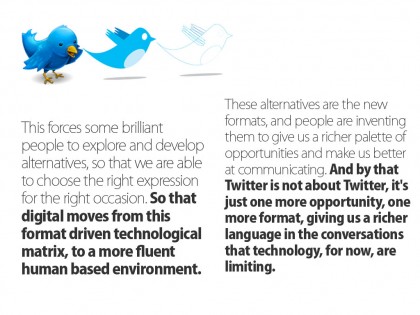 This forces some brilliant people to explore and develop alternatives, so that we are able to choose the right expression for the right occasion. So that digital moves from this format driven technological matrix, to a more fluent human based environment.
These alternatives are the new formats, and people are inventing them to give us a richer palette of opportunities and make us better at communicating
. And by that Twitter is not about Twitter, it's just one more opportunity, one more format, giving us a richer language in the conversations that technology, for now, are limiting.
Where is the sanity in criticizing that?