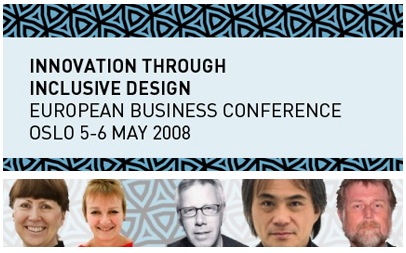 I am spending the day at the Europen Business Conference in Oslo, where the talk is about inclusive design and the advantages it brings to innovation.
The day has been about average, with the most content rich talk given by Jeremy Myerson, Director, Royal College of Art putting on a rather wide perspective regarding inclusive design and the process of innovation
.
Although I have some reservations regarding the lack of nuance and generalist portrail of the products of inclusive design; as "universal tools for all good"
. The innovation/design process itself is very positive.
A process that is all about researching the needs of the people who are going to use, involve and interact with the end-product. Where the design team through observation, ethnography and/or workshops ++ , gain insight and understanding which is put to use in the creation/design-process. The immense focus on design through true insight into activities, needs, ambitions and aspiration really is a good methodology to achieve innovative design
.
Go view the videos of the presentations…