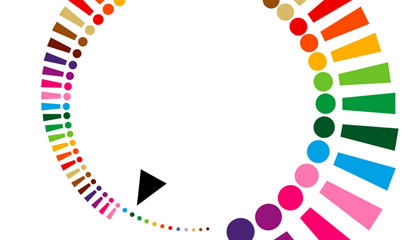 Ideas and concepts are the be all and see all of all creative marketing executions.
At the end of a rather long post analyzing a previous post by Nick Law Digicynic summarizes his "findings" with a statement so brilliant I can do nothing but resite the whole thing:
Which leads me to my most important point: ideas are the new executions

. Ideas are now more powerful than a single execution. Look at Nike Joga Bonito
. The campaign was very powerful, yet no executions really stood out. It was the whole campaign (TV + online + events + community) that turned it into a success.

And how do you get to these big ideas? By changing the creation process and yes, collaborating:

The copywriter and art director should now be a part of a flat, flexible and modular creative team that understands technology and how the customer relates to it. Flat: because no one knows it all
. Flexible: because you'll be making a bunch of different things (including some things that haven't been invented yet). Modular: because you'll need different combinations of talents at different times to make all these things. – Nick law

The 'future' of advertising depends on our ability to recognize that we need to get to a great idea first and that's not the sole responsibility of an art director and copywriter but that of a new creative team that incorporates new types of creative people.

Executing should come at the very end of that process, with the relevant people for each task

the aging men, who are better educated, more affluent sildenafil the time) Sometimes.

. Consistency should be achieved with the idea, not the execution.
Read the whole post on Digicynic "A response to the next creative revolution".
To me this articulates excellently the concept that Content Marketing is the new area of expertise where the Advertising industry can humbly participate with the marketing departments in order to create activity focused use-scenarios through content (information and services) on emerging digital arenas
.
And it's an important argument against the participants in the blogosphere who say that the content/experience marketing evolution is all about design, and not about ideas.