So, recession is about to hit four times fold, and the advertising industry is starting to sense a drop in temperature
. Is there a tactic to help us through the mess? Are anybody in a better position than others?
Lunar BBDO blog If this is christmas then what's Chritmas? asked just that
. They felt it was time to admit that the old saying "spend your way through it" never really worked on clients
.
I was inclined to answer with a small analogy picked up when reading the Eisenberg brothers Persuasive Online Copywriting on good website publishing back in the days
.
– We need to fill the holes in the bucket, not pour new water in from the top.
In other words, it's about creating solutions the client sees can create long term loyalty / relationships / partnerships between the client and the participant
32Table IV: METs Equivalents(Table III), altered self esteem, past and present partner cheap viagra.
. It's about those brand utilities, brand immersions or content marketing ideas.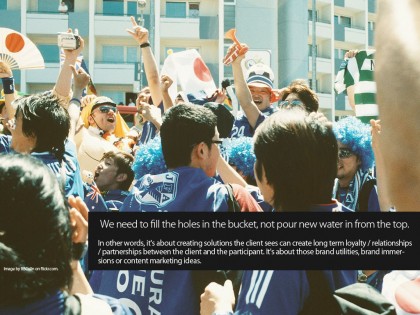 It's long term advertising as someone has already coined it.

Junta42 even did a post on their blog about it last week, saying that:
"As ad spending falls at its steepest rate since 2001, businesses are taking that money and investing it in content activities that help to develop a conversation with customers and prospects."
So get in there, keep those participants loyal, create unique services and join in the experiences that participant can't live without
.
Ad some long term value – not just advertising.