It' seems Seth Godin was right all along when saying "build your marketing into the product"
. But it's only recently through we have had the opportunity to understand what this really means.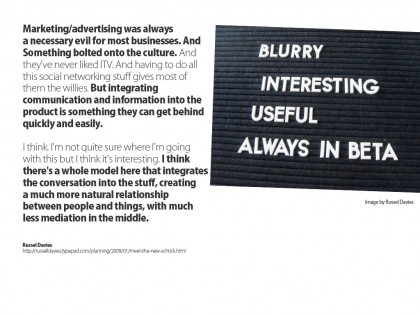 Russel Davies has added to this by writing an excellent post on moving from awkward messaging to more natural types of integrated content and services based marketing
.
I think there's a whole model here that integrates the conversation into the stuff, creating a much more natural relationship between people and things, with much less mediation in the middle. – Russel Davies
It all comes down to seeing how we need to move marketing much closer to the products or services themselves, understanding that todays model detaches them from each other
.