Digital is changing, and becoming more than just another channel. I think the landscape is transforming into three dimensions we need to think and care about in order to bring us forward.
Two blogposts by The Kaiser and Seb, a Trendbriefing and shared insights from Eddie of Naked Norway has helped me articulate this into a more manageable form
.
This is from a comment I made on The Kaisers' post Ceci n'est pas un pipe. (which I have no idea what means?)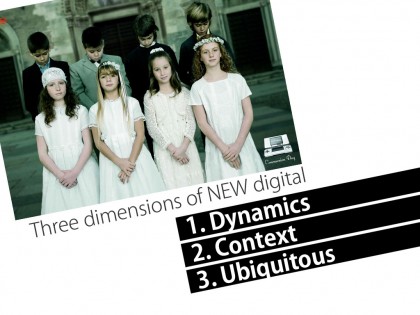 I think this [digital] is two-fold
the following :empirically without the support of rigorous clinical trial buy viagra online.
.
First off, like Rob is commenting, creating something digital is about appreciating the dynamics of the solution, not just the mechanics:
From a previous post on my blog referencing Robin Hunickes' talk on Lift:
"…where the topic is games and the mechanics of games. Every game can be put into a formula M+D=A. (Mechanics+Dynamics=Aesthetics). Where the solutions itself presents the mechanics, but the participation and interactions from and between participants create the dynamics
. It the sum of these two parts that create the aesthetics or the essence of a game, and the reason it becomes a success or not
. The same can be said for marketing activities."
The second thing is appreciating that digital is just a part of a larger context
. And this is where I think your "weave"-definition puts it up a notch.
Nobody uses or participates in your idea just to participate, but they do it as a part of a larger activity.
For example, nobody uses the Domino Pizza Application just to push around buttons and go through menus'. They do it because they have a craving for pizza. The application begins their pizza eating experience and start filling their mouths with water and anticipation.
This is all well and good, but I think the real difference with digital comes when adding a third dimension:
What happens with digital now, is that it no longer fits into a silo, like the other channels
. It has become more than an "arena" (an arena plays to the comment by lauren where "channels" are a pipeline you poor something through, whereas the "arena" is where participation and interaction challenges, enriches and redistributes the ideas).
With "more", I mean that digital is becoming ubiquitous, and will start filling the whole communications universe with content, arenas and online-offline-context (larger scale weaving).
The latest Trendwatching brief , "Off=On", gives some nice examples already.
As e few examples we are going to see everything from content on/in digital apps in clothes, a physical environment becoming as interactive as the digital, and a multitude of different channels and applications being weaved with digital (The Esquire digital print ad is a first flirtatious example of that).