If you are considering creating additional content for audience participation, it's not necessarily the content itself that is most important but it's shareability.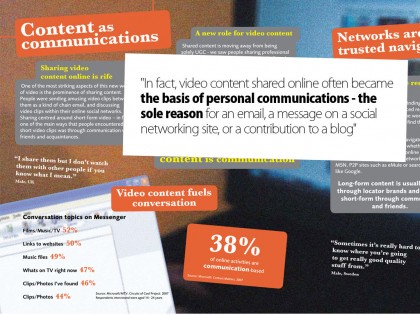 Microsoft has launched yet another great document of insights, this time looking into the habits and everyday lives of citizens and their screens. The whole study, named 3 Screens, presents knowledge and insights regarding who uses which screens how, and to what cause.
The report focuses especially on the two behavioral segments; Progressive Mainstream and the Advanced

. Most people in the industry representing the Advanced side – and there is a lot of nice data on "our kind". But the report points out that the future potential is to be found in The Progressive Mainstream, giving us insight into this segment – in comparison to ours – which is a brilliant way of doing it.
Now, looking beyond the richness of the report it is the focus on shareability that is most exiting, for anyone looking into rich content and participatory controlled media the conclusion would seem familiar. Two quotes from the report:
"Increasingly Content is Communication"

"In fact, video content shared online often became the basis of personal communications – the sole reason for an email, a message on a social networking site, or a contribution to a blog".
Reading through I am reminded of the old quote by Cory Doctrow:
"Content isn't king, conversation is king. Content is just something to talk about".
And with 3 Screens it seems even clearer. Content is a trigger to help people have more to talk about
. It's not about forcing yourself into an existing conversation, people are seeking reasons to talk, and a company might well give them this reason. So, ignite conversations, make your content shareable.