A company's ability to engage and connect with people has to do with its imagination and not the product or product category.
A couple of days back a quite popular and knowledgeable blog wrote, as a small part of their quite smart overview on social media, that some brands don't belong in it
.
I do agree with their statement, but disagree strongly with their reasoning:
" Some brands do not need to engage with their customers online, period
. Products like bread or socks, for example, are not the kind of things that people want to have a social relationship with anywhere, forget online. It just makes them look silly." – madebymany.co.uk
Now to me, both bread:
– Bakertweet
And socks:
– LittleMissMatched (mentioned on several occasions by mister Godin)
have a potential following too them.
In my mind it doesn't come down to the category. It comes down to the company – if you are boring and uninteresting brand, and never even tried to create something remarkable or interesting in regards to your product
. Then social media, as would be the case with advertising, is not a golden ticket, and will either fail or prove you wrong faster – or both.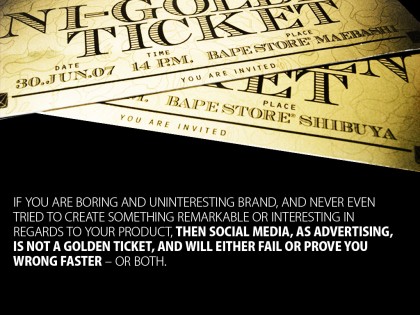 And it comes down to our imagination
. Just because we haven't seen it done before it doesn't mean there isn't a possibility that it might happen – in a way we could never imagine. In fact, having NOT seen it before only proves that there is a market and that it is there for the taking (if my initial statement is correct that is :o).
So, it's not the product or category that defines a companies ability to connect and grow with its audience and participants
. It is its ability to imagine something remarkable inside what to others seems like a lifeless and boring category.