How should brands act in a communication medium versus a media channel? An important question to ask as most brand strategies today seem to be focused on media channel behavior alone.
The reason this is important, as maybe best pointed out by Bjarne Kristiansen at TNS Gallup in Norway, is that the Internet only partly has the features and abilities of a media channel, it is increasingly becoming a communication medium, especially with the younger generations: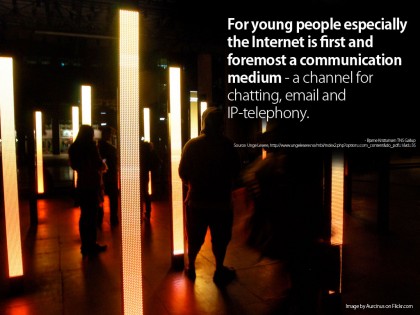 "For young people the Internet is first and foremost a communication medium – a channel for chatting, email and IP-telephony.

The Internet is also a media channel, with access to news and portals, and this is an important incentive for use. But it looks as if the features outside the traditional mass media's role are the ones that are most important".
– Bjarne Kristiansen TNS Gallup
Norwegian source: Unge Lesere.
Bjarne is not the only one to highlight this. The advert 4th Screen by Nokia does the same. Presenting the changes in technology use and consumption, and how this has changed from media to communication as we move to "the fourth screen".
Another relevant source to this thinking is Mark Hopkins article: Just What is Social Media, Exactly? on Mashable. (via Joakim)
One could question if the reason so much advertising has been a failure on social networks is that conversations online falsely has been viewed as media?
Viewing a lot of "the Internet" as a communication medium is also an important argument for understanding that in this new brand landscape, brands need to extend their notion of branding, and start exploring new opportunities outside the acknowledged norm of media placement
. We need to start thinking of the fundamental principles concerning value and communication and how tomorrows brands should be built not only in mass media but also in conversations and services.