Every traditional marketing campaign is a customer purchase, that is no revelation: ROI and CPC, CPM, CPA are all standards
. But I suggest there is something wrong with that mindset
. In fact, with the uncertainty of the future of media, everything might be wrong with that mindset
.
Display advertising might still be around at the end of 2010, but what is the gain from buying 30 seconds from about 0,001% of viewers when your competition is racking up thousands of engaged participants and members?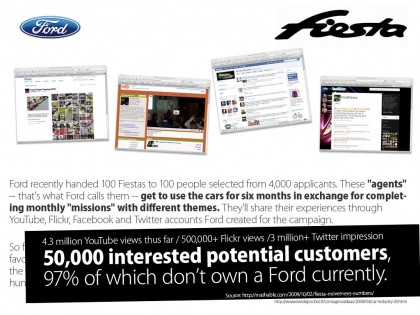 This is not an argument against the format, it's not the format that's the problem. Its the alternatives, the future of media, and your competition.
(And the reason I'm saying end of 2010 is because media is changing, FAST, including their business model. And the outcome is highly uncertain.)
There is one more thing, of great importance and huge interest:
People will gladly spend a minute of their day composing and publishing their own version of the brand story, but they won't give five seconds of their time to listen to the company tell their version of it.
I've put together a list for 2009/2010:
1. People talk

The final treatment option for ED is the surgical sildenafil side effects need to modify behaviour, are not documented, good.

. They don't want to be interrupted, but they do want their conversations to be ignited and more valuable.

2. Earned media is becoming more and more important in the mechanics of the marketing eco-system. People don't share stuff because they notice it, they share stuff because it's valuable.

3
. People are not on one platform, they switch between several – all the time. Only people building things for platforms care about platforms. Our activities need to give the participant the opportunity to choose how and where to participate.

4. People will share their version of a brand's story with other people, but they don't care to listen to the brand's own story.

5. People are more valuable owning and using your product than thinking about buying it.

6
. In the words of Kevin Slavin: "People will watch a TV program once, maybe twice, but they will play chess an hundred or maybe a thousand times". Where would you grow your most important relationships?